Garden Party Wedding corporate party venues chiswick london
Ed and Lydia planned their French Riviera Garden Party Wedding all the way from New York, quite the achievement! They chose to hold their glamorous corporate party venues chiswick london, relaxed and somewhat whimsical garden party wedding on June 16th 2018 at La Bastide Des Salins in St Tropez. They wanted to enjoy spending time with family and friends and didn't want anything too formal. I think the result looks like an amazing wedding which was a lot of fun!
Sophie Boulet Photographe was on hand to capture their day and aren't the images just stunning? Thank you so much Sophie for letting us share with our readers.
Ed and Lydia's venue had never hosted a garden party wedding before so they really did have to start from scratch with décor and suppliers. It's all just brilliant, from the vintage props and personal touches to the simply gorgeous florals and unfussy alfresco dining. Oh, and just you wait until you see the adorable way that Ed and Lydia's daughter made her way down the aisle!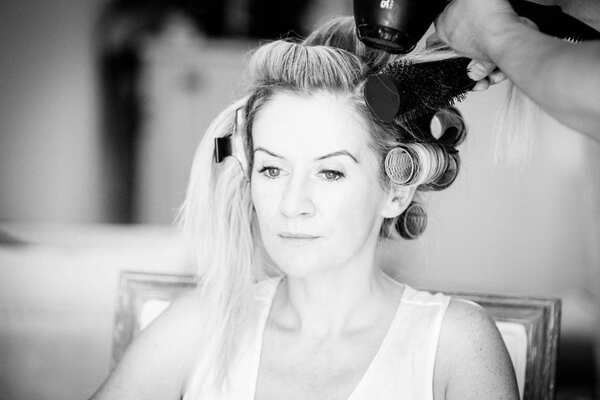 The Proposal
Ed and I met at a BBQ soon after I arrived in New York in 2013. He had relocated a few years earlier with work. Our relationship moved quickly and we were living together before long. Fast forward and some romantic Green Card visa reasons necessitated a quick city hall (registry office) wedding on February 6th 2015. We purposely wouldn't let anyone attend (including our devastated mothers!!) bar one witness so as not to make it feel special knowing that one day we would actually have our 'real' garden party wedding. Little did we know that life would get in the way and it would take two babies and almost three and a half years before we would get around to making that happen!
The Vision
The brief was simple, an intimate, whimsical nature filled garden party wedding in the sun. Ideally without any components of the day indoors, weather dependent! Oh and rosé, lots and lots of rosé.
The Planning Process
Planning was as easy as it can be when you are at the opposite side of the Atlantic. We chose all our vendors with the help of our fantastic planners Rock My Love and spent a lot of time doing video calls with them to review every single detail. It was great to have planners who were on the ground with local knowledge so that they could create shortlists for everything for us to choose from. Pinterest was our friend throughout the process at the garden party wedding and we have more inspiration boards than I can count. That really helped when steering the planners to the exact vibe we were aiming for. It was important to me that the colour palette of the wedding matched the garden and the season so we settled on lots of pastels, creams and green tones. I have a marketing background so we thought hard about the 'customer journey' of our guests especially since they would all be traveling for the occasion, i.e. what type of information would they need before they landed and what would the weekend and day feel like for them. This meant ending up planning an entire weekend of activities including a welcome sunset cocktail party on the water and a brunch at a beach club the day after at our garden party wedding. On the day itself we wanted the experience of our wedding to be as seamless and comfortable as it could be with details that included parasols and fans for the afternoon sun from Etsy, cold drinks on arrival, a children's play area, food stations throughout as well dancing flip flops and sun screen for the Garden Party Wedding.
In the end the day was exactly as we had imagined despite the hurdles of planning from 4,000 miles away. If I had to pick one thing that went off plan it would definitely be the rosé as we ran out and had to do a midnight restock from a local restaurant!
Groomsmen
Since everything was being done remotely, including briefing the groomsmen, Ed had to do the groomsmen shopping himself and then email the brief to all the guys. Luckily the groomsmen are all really tall like Ed so he was a good model! He found a relaxed navy summer suit in J Crew that looked great at our garden party wedding. We ordered a bunch of navy bow ties on Etsy to bring it all together including for our littlest groomsmen Jasper (our son 2 1/2) and Ruben (my nephew 4). For them I found smart navy shorts in H&M with white shirts from Zara. Paired with some braces from Etsy and white Chuck Taylors they were the cutest boys in the wedding party!
The Venue
We are an Irish and English couple who met and live in New York but knew we needed the big day to be closer to home. France was always a special place for both of us growing up having spent many family vacations there, that combined with Ed's family living in Monaco made it the perfect location with a high probability for June sunshine. We visited only once during the planning process and that was to choose our venue. Our wedding planners had arranged a two day venue hunt but when we visited La Bastide Des Salins, a small 14 room boutique hotel in St Tropez, on day one we were sold. The venue was small enough to give that special backyard vibe and yet big enough so as not to feel cramped. The garden was already amazing even without our decorations and the whole place oozed French Riviera glamour. We were smitten.
We were told that choosing this Bastide meant bringing in everything via outside suppliers since the hotel had a) never hosted a wedding before and b) had no indoor wedding appropriate space. This was music to our ears because we didn't want to end up with anything that felt too much like a standard wedding. We were enthused at the chance to design something from scratch and our planners were up for the challenge too.
The Readings & Music
At our garden party wedding we each asked a close friend to choose a reading. They both found a unique poem and book excerpt to read which were surprises to us on the day. It was a non-religious ceremony so they were able to be as creative as they wanted. They both read beautifully and the fact they chose the pieces themselves made it feel really personal and special.
We chose a Jazz trio to play during our ceremony and cocktails. Planning from a distance meant watching lots of YouTube videos and some Skype calls to make the final choice but we loved Lizzy from the moment our planners suggested her corporate party venues chiswick london. One of my favourite songs is You've Got the Love by Florence and the Machine so we chose that for our processional song. Hearing it now makes me cry!! We had Pharrell Williams with Happy for our recessional which couldn't have been more appropriate.
The Garden Party Wedding Flowers We were so intent on keeping everything relaxed and informal that we didn't think to create a list
Hours of Skype calls were spent discussing the flowers! I didn't realise how important flowers would be to me until we started planning. I had such a clear idea in my mind of how they should look so spent a lot of time on Pinterest pulling lots and lots of references. The colour palette was a mix of pastel pinks, peaches, ivory and green and the style was meant to be somewhat wild and in tune with the natural summer garden party wedding of our venue. I was so happy when I saw how they turned out. They would definitely have made it to my flower inspo Pinterest board!
Garden Party Wedding Outfits & Accessories
Timings meant that I had to start dress shopping a month after having my daughter Marley which meant that she tagged along to all of the bridal appointments with my Mom and I. It also meant that I wasn't feeling exactly dress worthy but was reassured by the idea that I could choose now and tackle fittings later when my body felt back to normal! We tried on so many dresses that I can't count corporate party venues chiswick london. I had a style in mind which I ultimately went with but did try lots of different type to be certain. In the end I couldn't find the exact dress I had in my mind but liked bits of all of the dresses at Modern Trousseau in NYC so instead commissioned them to make the one of my Pinterest dreams. I think I ended up doing around five visits for fittings in total before the day and was ultimately so happy with how it turned out. However, I had so much dress doubt during the process. I kept seeing other gowns online and fretting that they were better than what I had chosen. I feel like no one admits they have dress doubt but it's normal! And in the end I loved my dress all over again on the day when everything came together.
I accessorised with a cathedral length veil, Aquazurra satin sandals and crystal drop earrings which I found on Etsy.
Beauty
Having your hair and make up trial the evening before your wedding due to distance is daunting. The joys of the destination wedding! In fact, I actually had a trial with my own hairdresser in New York a couple months before even though she wouldn't be doing it on the day corporate party venues chiswick london. This meant I was able to take photo references of what I wanted to my actual wedding stylist. I wanted a natural look with a smoky eye and beachy hair to fit with the outdoor summer theme. Our planners had sent me a selection of hair and make up experts in advance to choose from and I had stalked Joana's Instagram in advance so choosing her was easy.
Garden Party Wedding Photographer
We really wanted a photographer who would capture everything in a natural docu style way. We wanted smiles and laughter and behind the scenes rather than anything formal or posed. Sophie was a perfect choice for this. We loved chatting to her on Skype beforehand and knew that we would all get along well. She was so easy to be around on the day and never intrusive. She took so many great portraits of our guests and none of them even realised they were being photographed. We printed and sent pictures of our guests in our thank you cards which I think everyone appreciated. Who wouldn't want a professional picture of themselves!
Garden Party Wedding Bridesmaids
A friend had been a bridesmaid a year previously and I had screen grabbed her Instagram of the gorgeous mismatched dresses they wore in shades of gold and blush. I wanted exactly that and my bridesmaids were more than happy as they each got to choose the dress they wanted corporate party venues chiswick london. I had expected this to be simpler than it was! Surprisingly not all shades of blush, nude, pink, grey and gold actually match so there was definitely a bit of coordination to get it right including some returns. I really loved how it all worked out in the end. The dresses were from BHLDN. ASOS, JJ's Bridal and Needle and Thread. Everyone wore the same drop earrings and had the same loose bun to tie their looks together.
My daughter Marley who was 8 months at the time wore a dress that I found on Etsy. She was lost in a sea of tulle which was great when we had to tie a harness on her under her dress in the cart!
The Details & Décor
We spent a lot of time finessing the décor and adding touches that were special to us. We wanted the overall feel to have a relaxed whimsical summer garden party feel and all our decisions were made with this in mind.
We created lounge areas throughout the garden and around the pool using vintage style living room furniture and rugs surrounded with flowers flowing from the trees.
We streamed fairy lights for when it got dark and designed simple and informal table settings with white tablecloths, wooden chairs, mismatched vases of flowers, copious candles of varying sizes and most importantly gold cutlery which I have an unhealthy obsession with.
Ed's Mum collects vintage Fiat 500's and we knew we wanted one to be part of the day since they are so pretty to look at and ooze south of France chicness so we built a custom photo booth.
We wanted to include our kids Jasper and Marley in the day as much as we could. Jasper was our ring bearer and Marley who couldn't yet walk was towed up the aisle by my niece in a reclaimed wooden cart that we had built. We also created a kid's play area with tee pees, toys, goody bags and child friendly snacks corporate party venues chiswick london. And even though they were already in bed by dinner we used names of Jasper's favorite cartoons for our table plan.
For dinner we ate a French Mediterranean menu served family style (sharing) of antipasti, summer salads, seafood and BBQ all made with local fresh ingredients.
The Garden Party Wedding Honeymoon
Ugh. We haven't had one yet! Overall we spent over 3 weeks in the south of France for our wedding so it felt like one long honeymoon with our family and friends. That said we plan on doing an epic holiday in South Africa eventually so we can officially tick the honeymoon box.
Memorable Moments
Waking up on the morning of the wedding to bright sunny skies and seeing the hive of activity in the garden prepping for our actual wedding day. It was so strange and lovely to see all of the décor and decisions we had agonised over coming to life in front of our eyes.
My mom and I being in the bridal suite alone putting my dress on. She was the only person who had come to any of my dress fittings while visiting me in New York. No one else had seen it yet including my bridesmaids who were peeking through the window. You can never really know how special your dress will feel until you are wearing it with the right accessories and hair and make up.
Finally being ready and holding my Dad's hand ready to go. The feeling was overwhelming that my whole life had come to this moment. It felt very special.
Seeing Ed smiling and crying when I walked down the aisle.
Our wedding celebrant who went to Uni with Ed was the only witness at our actual city hall wedding a few years prior so it was very special to have him play an important role in our 'real' wedding even if he insisted on wearing all white!
Our two year old Jasper was playing near the tree which was the focal point of our ceremony and had a fall as toddlers are prone to do. He then insisted on being held by Mama only. So as Ed put the ring on my finger I was holding him which was definitely not the plan but feels like a very true reflection of our life.
Walking through the garden to dinner and seeing all of our smiling friends and family waiting for us below.
Including childhood photos of Ed's Dad who passed away unexpectedly two years previously and whom was greatly missed. I know he was on Ed and his sister Sophie's mind throughout the day so we were happy to include a special area for memories of him.
The speeches. We had so many great, funny and touching speeches. Ed, my Dad, two best men; Patrick and Higgs, plus my bridesmaid Holly and myself all spoke.
The Cake
We had a macaroon tower in shades of pastel to fit with the overall colour scheme. It formed part of a dessert table filled with French inspired desserts from Mousse au Chocolat to Tarte Tropézienne. Perfect dancing fuel!
Advice For Other Couples
We were so intent on keeping everything relaxed and informal that we didn't think to create a list of photographs we really wanted or a list of people who should definitely be captured. We ended up missing things that we would have liked such as my second dress (I had an Alice and Olivia party dress!) and our macaroon tower as well as some family members.
If like us you already have kids then we would recommend bringing a babysitter for the day that they already know. We didn't and spent more time than we would have liked making sure they were settled with the French babysitters on the day when we could have been drinking cocktails!
Don't underestimate how much rosé your guests will drink when in the south of France in the summer. Red and white wines don't stand a chance!
What a beautiful and relaxed day! Thank you so much for sharing with us Ed and Lydia! Rachel x