Our stunning banqueting suite can accommodate all sizes of parties. Moreover, we have the perfect sound system with a video projector.
With choices of fully decorated tables and chairs and a state-of-the-art kitchen (external caterers allowed). As well as a large car park for your guests (up to 270 cars). Our fully licensed bar has a late licence, so you can party until 5am!
We specialise in creating memorable events for people in and around Chiswick, Acton, Ealing, Harrow and Richmond.
In addition, to the West, South, North, East and Central London areas.
We have a large terraced area that offers a comfortable open area seating, for your guests.
However, it can be unpredictable weather, in addition, a canopy can be provided. There's a large stage with bride and groom thrones that can be decorated with an array of different decorations.
See the video of our fully refurbished function halls hire to appreciate its scale and fabulous facilities.
Banqueting sweets are the unique wooded floor rooms which are spacious and lit rooms that are fully air-conditioned. The banquets can be divided into separate rooms for different purposes if need be.
Banqueting Suites London are one of the most important parts of a community because they are used for happiness and sorrow. They are used to:
Celebrate the most important and life-changing events of people's lives, for example, wedding ceremonies
Make an important decision on the future developments of the companies, in the case of business events.
Commemorate the people who once walked the earth and leave their loved ones behind, in the form of death mourning ceremonies.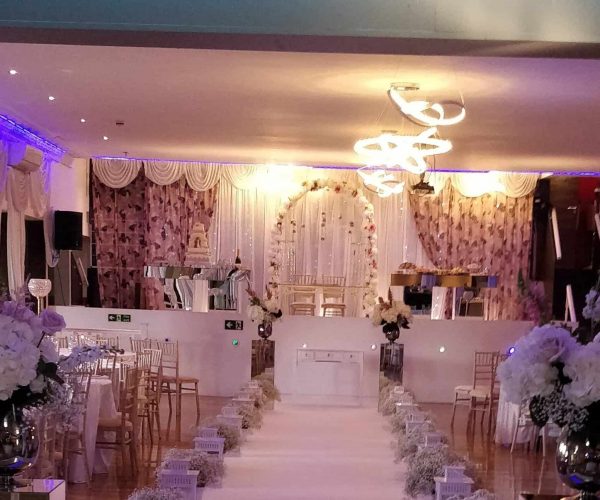 What does Events UK offer?
Events UK is a vast banqueting suite in London that offers a broad range of options for you. We have been hosting events ad marriages for years now. And we have mastered the following events:
I. Events
For weddings, events UK is one of the best banqueting suites in London. We are capable of giving life to all of your dream weddings. We specialize in catering to our clients' needs and designing a wedding that will forever stay in their memory.
Whether small or big number of friends and families, we can accommodate them all. you just have to say the word.
Want memorable pictures in meadows? we are surrounded by green spaces, so you can capture this dreamy experience forever.
Do you want everything at your wedding to be perfect? We got it covered. Our banqueting suite London offers a video projector and sound system that is flawless and won't betray at the moment of need.
You must want to be your wedding venue top-notch in aesthetic appeal. We offers tables and chairs fully decorated according to your taste.
Want to arrange your food? We will assist you by setting up a state-of-the-art kitchen.
Want to celebrate your day to the fullest? Worry no more. Our bar is fully licensed, so you can party as long as you like.
Have you dreamt of your wedding as a fairytale? We will make it happen. Events UK offers a large stage with thrones for the bride and groom.
Private parties are the ones that are personal. Mostly close friends and families are invited to it. So the whole premise of the party speaks for you.
Sometimes you want to host a reception with lots of food and a place to bond together. Sometimes it's a bolder event with just friends and lots of dancing. We got it all.
Moreover, if you want to organize the event for yourself, just hire the suite and do as you wish.
We are here to help you in any way you want.
At corporate parties, making an impression is a must. You can do that with Events Uk. We are experienced in holding corporate parties and understand this niche very well.
We offer you a broad range of options for you to choose from.
Want to host the party outdoors? We offer a terrace with comfortable seating in all weathers. Moreover, we are surrounded by green spaces and we can arrange seating for you there.
We will host a party that your corporates will never forget.
II. Food
Whether it's a wedding or a party, food is the most important part of the event. And make sure to make it memorable for you.
Whether you belong to a different culture or have different food tastes, we offer a broad range of options for cuisine here. Other than the usual, our chefs specialize in:
Indian cuisine
African cuisine
Mediterranean cuisine
Greek cuisine
Don't have what you are looking for? You can organize food yourself and we will assist you in delivering and serving.
III. Decor
Décor is what sets the vibe of the event. It conveys your feels to your guests.
The colour scheme you choose, the themes you opt for, everything matters in a perfect event.
We offer a broad range of options for you. You can choose and colour or theme, and we will make it happen for you. Moreover, we will decorate the tables and chairs according to your desires.
Contact us:
We got everything you want. Contact us to make a booking and to discuss your event with us.